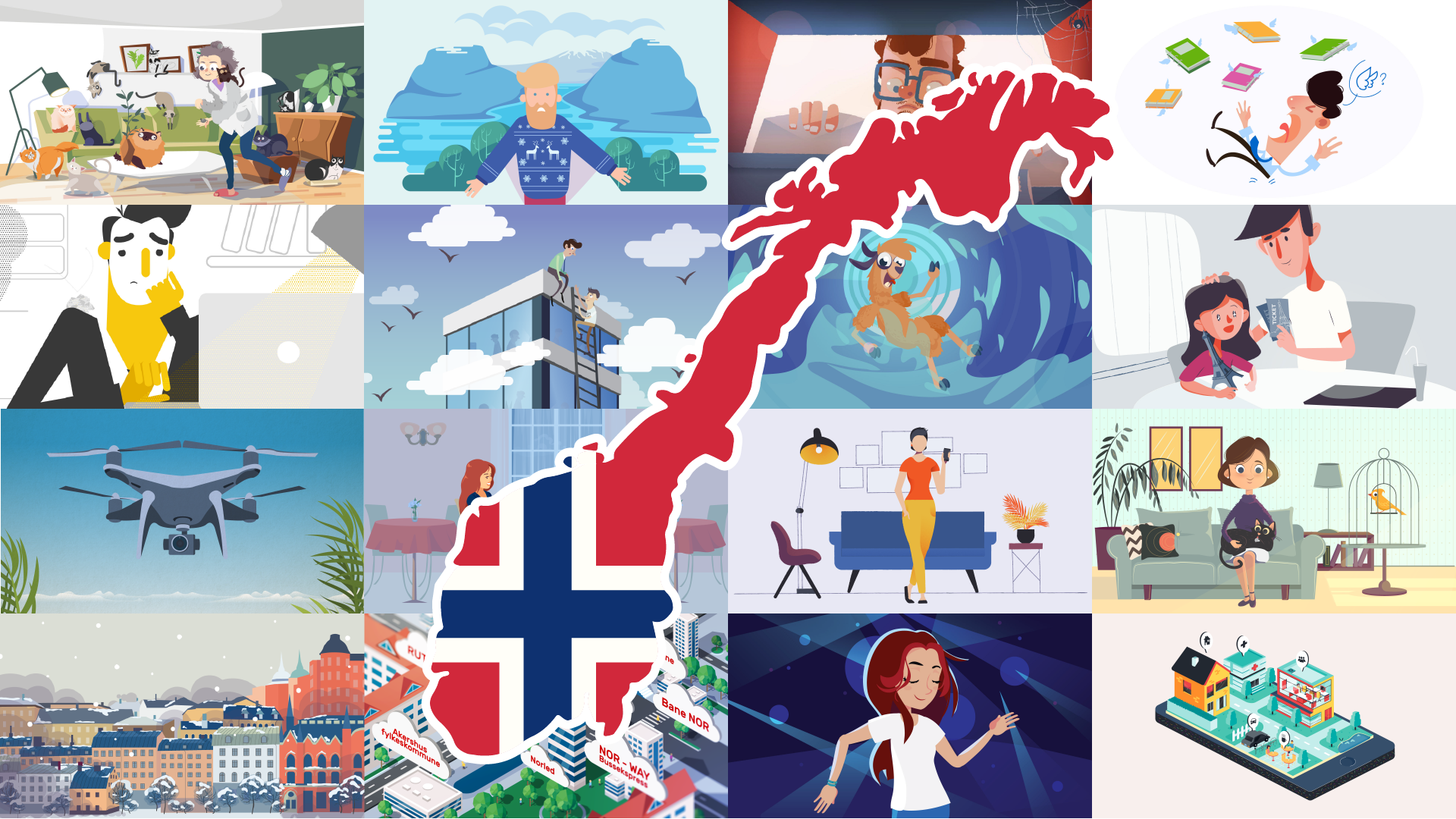 Being one of the animation provider for the Norwegian market, we made animated videos for brand-building of many well-known companies. Also, we created a great number of videos for business promotion of companies (including the videos which were made during our cooperation with Animer.no). Of course, it's a great opportunity for us to work in collaboration with companies doing business in Scandinavia. So, we'd like to share some of our projects which captured the attention of potential customers and generated interest to the services these companies offer.
Elkjøp Bedrift
Doing shopping without leaving office is both fast and convenient. So, you can order all you need in a matter of minutes and forget about going shopping for hours and hours. In fact, Elkjøp Bedrift will do everything for you. It is a well-known Elkjøp Bedrift. Everyone knows about all the opportunities it offers to the consumers, but not everyone knows that now it's possible to do shopping online. Elkjøp Bedrift works with different companies, providing goods for many occasions. You can buy products in a shop or order everything you need on an official website and you'll get goods directly to your office. Sounds good, right? Do shopping for pleasure, using Elkjøp Bedrift.
Nora
With Nora you can gather all your insurances digitally inside a mobile app. In a few clicks you can change existing policies or receive unconditional insurance offers from Norway's leading insurance companies. Nora as well would help you with cleaning up your insurances to make sure that you always have the cheapest and best insurance solution. Of course, if you need help or have questions customer service is just a click away, easy and simple.
Roger & Roberta
If you're on the jump, Roger & Roberta are digital colleagues, who help you not to go out of mind and to perform all day-to-day tasks you need to do. So, they can review long applications, perform credit checks and deliver reports. They are skillful employees who are working day and night in order to arrange all your daily tasks. Moreover, these guys make up a plan of your basic needs and they are responsible for processing your stuff. So, put it simply, they can cope with multi-tasking in a matter of minutes.
Kinder ID
How to keep your children safe? Of course, if you're on vacation, you shouldn't worry that your children can get lost in large crowds of people. So, Kinder ID will keep all your worries away. This app helps you to track their current location, using a unique ID. How does it work? Your child is wearing a special band on his wrist and in case he is missing, the person who finds your child, types this ID in an app and the message with a information of his position is sent to the parents. In such a way, parents can easily find their child and get in touch with him.
L'Ardour
Everyone wants to love and be loved. But if you are always in a hurry, working 9 to 5, it's difficult to find somebody for a serious relationship. What is a way out? Of course, L'Ardour knows how to make you happy and helps to meet your life partner. L'Ardour is a platform for people who believe in true love. It helps singles to find the very one and only. No matter how old you are, sign in and find a person to go through life together.
This series of videos was made in a form of dating guide to give advice on how to behave at a first date and make a good impression.
Norkring
Norkring is the largest provider of a broadcast service. This company supplies radio and TV signals to listeners and viewers and offers a distribution of antennas and receivers at the stations all over Norway. The main aim of the company is to be a leader of a digital broadcasting.
Norkring is well-known service among professionals in its industry, but many people are in the dark about the things they do, that's why it was a challenge for us to present this company in the best possible way.
Aquarama
Aquarama is a recreation center for locals and travelers. This is a Norwegian center of health, entertainment, sport, and recreation. In Aquarama you can find a sports pool, a dive tower and an aqua park. It's a perfect place for families who'd like to take a little time to relax, escape from the noise of downtown and have a great time with their children and friends.
Oslo Taxi
Long waiting for the bus is a hot-button issue, especially if you're in a hurry and don't want to be late for an important meeting. Have you ever heard about Oslo Taxi? Quick, easy and safe – with this service you are always on time. Just download an app and use all opportunities it offers. Even if you have forgotten your wallet, you shouldn't worry about it, connect your credit card with this app and go everywhere you need. The process is simple, you order a taxi, get a fixed price, follow your car on the map on its way to you. Sounds good, right? Start to use this convenient transport mode right today!
Promon
Apps are becoming a more integrated part of our everyday life. This naturally makes mobile devices an attractive target for cybercriminals, who exploit poorly secured apps in order to steal sensitive data. As a business, it's your responsibility to maintain the integrity of both your company's and your customer's data. What if your app could protect itself from all kinds of attacks? Promon SHIELD makes sure it does. It works by seamlessly integrating itself into your app's code.
Even on highly infected devices, it's able to fend off any attempt to compromise its integrity, making the app safe to use. Without affecting the end user experience, it detects any sort of threat in real time. Promon SHIELD upholds the strictest international compliance requirements and works with multiple platforms. Its high level of security enables you to focus entirely on making your app as functional and user-friendly as possible, and it won't slow down the development process.
AKT
AKT is responsible for issues of planning, development, and operation of public transport stations. Its work is to provide infrastructure and offer services that encourage passengers to use public transport.  This organization is socially responsible and focuses on environmentally friendly approach, safety, and quality. They are actively involved in modernization processes and development.
Norske
Can you imagine your life without Internet? A net connection is an indispensable component of people's everyday life. It's impossible to find any office spaces that don't have communication services. We believe in a completely new way of provision of Internet services. Working with Norske you can offer a full range of services, providing the highest possible security level. This portal allows to choose appropriate network traffic, use a Cloud service, add a new user and obtain information about a payment. Norske works for you right there and then.
OBRE
Air pollution is a pressing problem nowadays. A lot of countries try to reduce venting, looking for new possible variants for heating houses in environmentally sound ways. We concern about environmental problems and we are really excited to cooperate with a firm that wants to make this world better. OBRE is a company that makes fireplaces that can heat your place avoiding chimney fire. With their product, you can breath clear air in your house. The motto of this company is "If you heat the right way, the air gets better indoors". With less smoking coming out of the chimneys, you can improve air quality for yourself and people outside.
EonTYRE
EonTYRE takes care of nearly everything for your tire business. Your IT system in your tire workshop does not need to be complicated. EonTYRE is a simple, web-based system for the tire and automotive industry. It will handle sales, purchasing, custody, time booking, warehousing and more. You build single orders with a smart search engine. You can search the dimension or registration, and choose products from our warehouse or external provider. This service is constantly working to integrate multiple vendors, so you can even use other eonTYRE workshops as suppliers, or sell to them.
BID
In a busy every day the focus is often on earnings, customer care, and growth. As it should be. But what about the costs? Maybe you suspect that you pay more than necessary? We know how demanding it is to update purchase agreements, but maybe its time to renegotiate your insurance agreement, or maybe the coffee machine that has been standing there for 3 years? We'll make sure your search is sent out to qualified and relevant suppliers ready to fight to get you as their customer. With a few button presses, you can renegotiate all your agreements in an effective way, receive offers from several suppliers, and choose the one most suited for you. In that way, you save both time and money and can carry on focusing on your core business.
TT Inkasso
TT Inkasso collection enables effective and user-friendly debt collection. To send out collections can be complex and demanding. It takes time, it can create complications with the customer, and it is frustrating to keep track of what's happening with the debt collection case. But now the solution has arrived. TT Inkasso is a small and dedicated collection agency that knows that close monitoring and an honest and respectful treatment of your client produce the results you want so that you as a business owner can still have a good relationship with your customer.
Aztek&Buypass
Internet security is very important and it's easy enough to be exposed to illegal online activity committed on the Internet. Aztek&Buypass is occupied with IT-consulting and provides companies with intelligent and modern technological solutions to make everyday work easier. Buypass presents online security solutions from cybercrime. Their joint cooperation allows  to offer security solutions from Buypass as part of its services. Aztek&Buypass – your pathfinder to the cloud
, Buypass – securing transactions.
Konica Minolta
Konica Minolta is a world leader in product development and innovation. Office machines (electronics) are incredibly important in the work process. But, as a small or medium-sized company, you don't want to have a long-term lease of office machines. For that reason, you choose to buy hardware and be always involved in its installation and maintenance.
Here Konica Minolta can save your time and money. With this service, you can lend one of the multifunction printers and get access to industry-leading service and support. You pay only for what you need and have a trouble-free working day.
Wonderloop
Collaboration. Hiring. Investing. And giving. How to see who we really are. It's always the first step. Meet Wonderloop – it's not just about what you do, but about who you are and what you want in the future. This is a platform for meeting new contacts through personal introductions you record on your phone.
This project was made in 2012 and since that moment we've have been creating more than 100 animated videos for Norwegian market.
We will be glad to collaborate with new advertising agencies, startups, and other Norwegian companies, making great explainer videos for their business promotion. Click the link to schedule a call with us and discuss your future project.