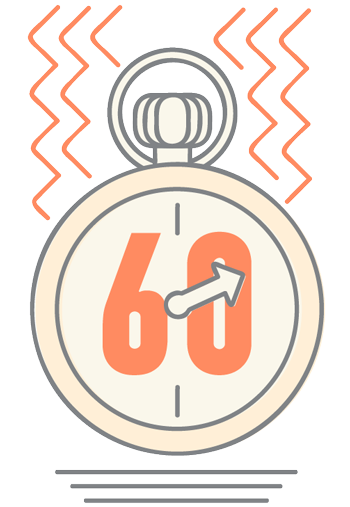 Of course, one of the most effective approaches to making a thrilling 60 second video is to define a problem and to show how your product or service can solve this problem. In fact, if an idea and a story of your video are relevant to your customers' needs, the video stands to win. Are your customers unsatisfied with something? Then show how your product can help them to become happier and illustrate this with corresponding images. In shot, to achieve this goal write a script telling how to solve the problem easily.
1. In just one sentence present a main character of the video. For example:
This is Andy, he's 30 and he has a charming daughter…
or
I'm Mike and I'm in love with a the girl next door …
2. Write no more that 1-2 sentences to describe a problem. For example:
Once Andy's daughter asked him to buy a new Barbie doll, but Andy could not find it in any store in the neighborhood…
or
We have been going on dates for a month, but I'm afraid to kiss her – what if my breath is not fresh enough and this makes a mess of things?…
3. After describing the problem continue with displaying your product which solves this problem. The best way to show it is through the social proof:
Andy's friend gave him advice to purchase the doll online because this is the most convenient way. He has already bought an excellent car and a cool train for his son on the site … and they both were entirely satisfied …
or
But then my older brother told me about breath freshener…which he always uses when going on dates. 
4. In several sentences explain how the product works. Avoid unnecessary ins and outs as well as technical details – just give the overview to your customers:
You just need to choose the desired toy, convenient method of payment and delivery, and your child will get a wonderful present in three days.
or
This freshener effectively destroys all bacteria in the mouth cavity and leaves a pleasant minty smell for a long time.
5. Add your product benefits. Give more details about its advantages and describe how it differs from other similar products. If it's possible, present facts and figures since it's important to specify actual evidence – show the number of your clients, tell about how long your company is on the market or give other figures you are proud of. For example:
There are more than three thousand toys in our online store; from newborn babies to teenagers; delivery within three days regardless of destination; detailed consultations on the phone; several payment options to choose from…
or
Our freshener works three times longer than the others; two times cheaper; both freshens breath and maintains mouth cavity hygiene….
6. Call to action. Make the logical conclusion of the story and show the audience the next step to be done. For example:
Andy and his daughter are thrilled and you can make your child happy by making an order on …
or
I kissed Julia and it was breathtaking! Buy… and impress your girlfriend!